50% OFF FOR A LIMITED TIME ONLY. PRICE WILL GO UP,  WHEN TIMER EXPIRES.
00

Days

00

Hours

00

Minutes

00

Seconds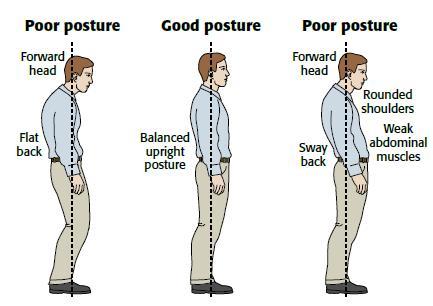 Poor posture can be detrimental to health! If you are in front of a screen for work or even gaming, chances are you suffer from slouching and poor posture. Even athletes can suffer from this due to muscle imbalances.
So whether you are male or female, athlete or gamer, our PermanentCorrect™ is a must. 
✔ IMPROVE POSTURE
Our posture brace works by training your muscles and spine to return to their natural alignment.
✔ REDUCE BACK PAIN
Bad posture left unchecked can cause pain, lethargy, and even lead to nerve damage. Our back brace, coupled with physical therapy, aids in the treatment of back pain.
✔ MAXIMUM COMFORT
Our durable and comfortable design allows effective assistance while being comfortable to wear. The cushioned straps pull your shoulders back while the waistband supports the middle and lower back.
What Are People Saying About Permanent Correct™?
★ ★ ★ ★ ★
"This has really helped the back and neck pain I had. In fact, I don't want to take it off it feels so good, gives me so much more confidence and frees me to go about my business without the pain.
I think there was much careful thought, research, and planning (even in the small details) that went into designing and making these correctors. The fabric and other materials are good quality, and, unlike other posture correctors I had seen, are simple and very easy to put on."

- Abigail R. Jacobs from Florida, US
★ ★ ★ ★ 
"I was skeptical, but after trying it for almost two weeks I noticed significant changes in my posture. I have back pain due to my poor posture and have had a significant decrease in pain as well. It is easy to put the posture corrector on. There is velcro in the front which can be tightened or loosened to fit individual needs making it one size fits all. It is washable, folds easily, and doesn't take up too much space in a bag when traveling.
I had no idea how bad my posture was until I started using this corrector. It adjusts easily, fits comfortably, and corrects posture easily. Absolutely recommend!! "

- Milford Spears from London, England
★ ★ ★ ★ ★
"So my co-worker told me about this product and I figured I'd give it a try after some light research. It just came in the mail today. In fact I've only been wearing it for 15 minutes probably and wow. I've been in such a habit of fixing my posture I haven't needed to this far. Yes, I know I literally just received the product. but I never write reviews and in this short amount of time I've already seen myself sitting/standing upright wearing the posture corrector.
I feel it too. That's another thing about this product is the description is extremely accurate. It is slightly uncomfortable but for all the right reasons! If i haven't been so lazy slouching all the time i wouldn't be writing this review. but I am. and I'm glad I am because this works. 5/5 highly recommend."
- Andrea D. Timms from Frankfurt, Germany
★ ★ ★ ★ ★
" I've been waiting multiple weeks before posting a review because I wanted to see the how the product was. It has definitely exceeded my expectations. After all these weeks my posture has significantly improved and I have to say it is all because of the posture corrector. Only downside is that I couldn't figure out how to put it on and needed to see a video to do it. Other than that the product is amazing and can easily be worn under your clothes  - love it!"
- Delbert C. from Washington, US
Size S 
Waist Size: 27.59" - 31.53" (70cm - 80cm) 
Size M 
Waist Size: 31.53" - 35.46" (80cm - 90cm) 
Size L 
Waist Size: 35.46" - 39.40" (90cm - 100cm) 
Size XL 
Waist Size: 39.40" - 42.55" (100cm - 108cm) 
"It's not a temporary fix..."
Permanent Correct™ Posture Corrector is not about a temporary fix. When your body adjusts to wearing our Posture Corrector, muscle memory will form so that even when taking it off, your body will naturally adjust to its newer and healthier posture. The lightweight but firm material is adjustable and made of breathable material which means you can wear it all day for maximum effect. Even under clothing!
✔INVISIBLE
Our back brace fits seamlessly under your clothes, giving no indication of the extra help! 
✔ 60 DAY MONEY BACK GUARANTEE
If for any reason you're not happy, you can simply contact our Customer Service Department within the 60 days period after purchase and let them you'd like to return your order. No questions asked.

✔ FOR BOTH MEN & WOMEN
Our non-restricting design fits both men and women of all ages. Refer to the sizing chart below to ensure you select the correct size.
50% OFF FOR A LIMITED TIME ONLY. PRICE WILL GO UP,  WHEN TIMER EXPIRES.
00

Days

00

Hours

00

Minutes

00

Seconds
Will this weaken my back muscles?

No it will not! Our posture corrector is not made out of super stiff material that will keep your posture locked in place like a cement vest, nor is that even healthy. Our posture corrector is an aid that helps your muscles maintain the correct posture, acting as a constant reminder to your and your muscles that keep your posture straight. Your muscles will develop over time to maintain it.


Will this pinch my arms/shoulders?

No, unless you are wearing the posture corrector incorrectly. If you experience pinching either you are wearing it too tight or you are slouching your shoulders into the posture corrector too much. Loosen the straps to your comfort level and pull those shoulders back!  That's the beauty of PermanentCorrect™ Posture Corrector, if you are slouching, it will become uncomfortable, forcing you to keep your shoulders back to regain comfort. It is the perfect way to strengthen your muscles to develop long term healthy posture.


Yes! It's especially designed to fit around male and female physiques.


Can I wear it under my shirt?

Yes! PermanentCorrect™ Posture Corrector is designed to be sleek so that it fits under shirts or clothing, so you can be wearing it in public without people noticing. But for maximum comfort, consider wearing it over clothing.

Shipping & Delivery
Please allow 2 - 4 weeks for delivery due to high demand.*
*We do not guarantee these delivery dates. These are just estimates based on past experience.